It's very rare to find a product that benefits both the owner and those in the same household as the owner. This product is so incredible it allows you to have the best of both worlds. This is one gift I can honestly say keeps on giving! You can literally have your cake and eat it too. Few products are as useful and effective as this one. If you enjoy being immersed in your television or enjoy peace and quiet, this item is an absolute must own.
So, what is this glorious product? A Bluetooth transmitter and receiver. This item will take the audio from your TV or other electronic devices and transmit that audio via Bluetooth to your Bluetooth enabled headphones or speakers. I have owned this Bluetooth transmitter and receiver for almost two years and I absolutely love it!
Who is this item for?
A Bluetooth transmitter and receiver should be considered an essential item for anyone who lives with someone else. Regardless of whether you live at home with your parents, are a parent yourself, have roommates, a housemate or any kind of shared living space situation.
This Bluetooth transmitter and receiver is for every parent!
New parents usually try everything to keep their sleeping children asleep! Neither parent wants to be the one to wake a sleeping baby. This item is perfect for you because you don't have to keep the volume down when you're the only person listening. I know this from personal experience. Parents of older children may be looking for some peace and quiet from their kid's video games or TV shows. I don't want to beat a dead horse but once again this item is perfect. Your kids can enjoy their stuff and you can enjoy some much deserved peace and quiet or your own TV shows, movies or video games.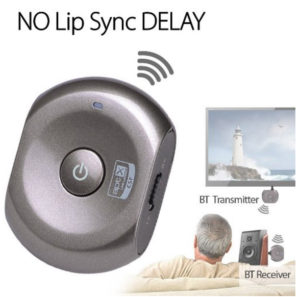 Why you should buy this product!
Consider for a moment what your house would be like if you could immerse yourself into your movies and video games without disturbing anyone else! How peaceful would your house be, or how much more enjoyment would you get out of your "me" time if you could actually hear what you're watching or playing?
Conclusion
The only downside to this product is that it can't be used by itself. You need some form of Bluetooth headset or headphones. I just used my LG Bluetooth headset for a long time until I decided I wanted a more comfortable listening option which lead me to the Ausdom over the ear Bluetooth headphones.