SPARTANCOINS.COM
Inaugural Arizona Bowl Coin Toss coin
1-855-477-7826
sales@spartancoins.com
100% Satisfaction Guarantee
Home > Custom Coins > 2015 Arizona Bowl coin
I really enjoy creating custom coins. The reality is that we are all creative in our own right but our creativity must be exercised just like anything else. One of the parts I enjoy about manufacturing custom coins is getting to see designs make their progression from concept through finished product. Client testimonials are also one of my favorite things about making coins. Their comments are always wonderful to hear.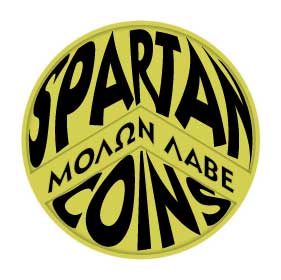 Being a custom coin manufacturer also affords us the opportunity of getting to be a part of people's, organization's or business' histories. When we create their custom metal keepsake for once a lifetime events, or inaugural events.
In 2015 Spartan Coins was very fortunate to be the provider of the coin toss coin for the inaugural Arizona Bowl, which pitted Nevada against Colorado State and was played at Arizona Stadium in Tucson Arizona on December 29, 2015.
2015 Arizona Bowl coin
This die struck brass coin measures 2 inches in diameter and features silk-screening paint color and traditional paint color. I personally love the fact that we were able to use silk-screening on this coin to really adhere to the original Arizona Sports and Entertainment Commission logo. Silk-screening isn't something we get to use a lot, so it's refreshing to get to see it's strength on such a high profile finished product. additional features
Thank you to the Arizona Sports and Entertainment Commission for allowing us to be a part of their history of excellence in sports and entertainment in our great state.
Challenge Coins For Sale
|
Custom Coin Design

Last modified: March 27, 2016

© spartancoins.com 2013 - 2017 - All rights reserved.