SPARTANCOINS.COM
Custom Promotional Products Blog
1-855-477-7826
sales@spartancoins.com
100% Satisfaction Guarantee
Home > Cheap Custom Challenge Coins
New to creating custom coins?
It's easy for me to assume that every potential person reading this has experienced creating their own custom coin. This, like most assumptions has a high probability of being incorrect. So I'm going to take a different approach here. I am going to write a post for those of you who have never created your own coin or for those of you who may feel some level of apprehension to do so. Custom coins are fun and easy to create. They have many more uses that what some people believe. I think they are the ultimate keepsake and a great instrument in raising awareness or recognizing excellence.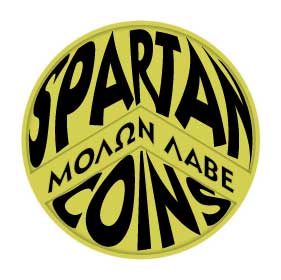 Let's start with the question, how do you want your coin to feel? This may sound like an odd question but it's really important. You may think to yourself, "Come on Rob, I want it to feel like a coin.".
There are two things I think of when I think of coin feel. One is weight and the other is texture or relief.
Let's tackle weight first. There are two different production processes we use. Die struck and die cast. Both processes make nice coins. I myself usually prefer die struck coins. The base metal of die struck coins can range from iron, to copper, to brass and to bronze but typically brass but die cast coins are always zinc alloy. If we compare 2 identical coin but one is die struck and one is die cast, the die cast coin will feel lighter. Spartan Coins offers an increase by 1MM, or from 3MM thickness to 4MM thickness on our die cast custom coins for NO additional cost to our clients. We do this to help off-set any weight difference and to deliver a quality custom coin you will be proud to own, share and display.
Coin weight might not be a big selling point for you and that's fine but it's something you should be aware of if you're doing in depth cost comparisons. I want to empower your buying decision with as much knowledge as I can. I have made you aware, that's all I can do.
Cheap Custom Challenge Coins
A word of caution for those of you looking for cheap custom challenge coins. I personally don't like to use the word cheap. I feel like it implies something cheap, not worth very much and very likely poor quality. I understand we're all looking to be more fiscally responsible and looking for cost effective solutions to maximize the money we spend. I personally would prefer to spend a little more on a quality product than nickel and dime my way into a poor quality product only to end wanting to kick myself later for skimping where I probably shouldn't have. The saying you get what you paid for tends to hold true in my experience.
While we're on the subject of price. Yesterday (April 25, 2016) I beat a competitor's price by 50 cents per coin on a 320 coin order without even invoking our price match guarantee, and this is a competitor that has "4 less" in their name. I find it funny how frequently the words discount, wholesale and for less are thrown around as advertising gimmicks instead of actual words to do business by.
I digress back to the original question of how you want your coin to feel. If you're going for a currency feel then you're probably looking for plating only with no enamel paint color and no epoxy coating. You want to be able to feel the relief (raised and recessed metal) of your coin design. Most metal finishes or plating options are available in antique, matte and shiny versions of gold, silver, bronze and nickel.
A word about shiny plating or shiny metal finishes. Consider this a disclaimer for any and all shiny metal plating options. Both raised and recessed metal are shiny on shiny plated coins. What this means is that there is a very limited contrast between raised and recessed metal, and legibility can become an issue depending on size of the type and size of the coin. This is just something else I like to make my clients aware of. I'm not saying legibility will be an issue, I'm saying it could be. Below is an example of a shiny gold plated coin with no paint color and no texture. Adding paint color or texture to the recessed areas of shiny plated coins increases contrast and legibility. The texture is created by sandblasting the recessed area which leaves the shiny recessed area looking frosted.
Paint color
Paint color on custom coins is based on the Pantone PMS Solid Coated color chart. RGB and CMYK colors cannot be accomplished unless you're using photographic or off-set printing. Paint colors are separated by walls of metal on custom coins, much like black outlines separate areas to color in a coloring book. Paint colors are available in soft enamel and hard enamel.
Soft Enamel paint color
Soft enamel paint color is the most commonly used paint color on custom coins. Soft enamel alone will not completely fill the recessed voids of your coin. This will allow you to have paint color on your coin and still feel the raised and recessed areas of your coin design.
Hard Enamel paint color
Hard enamel on the other hand will completely fill the recessed voids of your coin. Hard enamel is then stone smoothed and will be flush with the raised areas of your coin design, making painted areas seem raised. Please be aware, hard enamel cannot be done on coins with high relief 3D metal.
So if you're looking for a flat smooth feel then you're probably looking for a combination of soft enamel paint color and epoxy, plating and epoxy or hard enamel paint color. Epoxy is a clear coat finish much like the clear coat on your car's paint job. Epoxy fills in any remaining voids on soft enamel or no enamel coins and leaves a smooth, polished, finished feel. Epoxy is not required unless you're using silk-screening, photographic printing or off-set printing.
Personalized Coins
Personalization options make custom coins even more appealing. Serialization or numbering can be added on either the face or edge (third side) of your coin. We can even laser engraving specific names, numbers or your own unique serialization, provided there is adequate room on your design.
Hungry for more reading, check out our other blog posts below. Before I go I would like to say a hearty thank you to my clients. I sincerely appreciate your business and I hope your experience with Spartan Coins was referral worthy. Until next time I wish all of you fair winds and following seas. God Bless!
Best Custom Coin Maker

Custom Coin Design
What do custom t shirts and custom coins have in common? They both be silk-screened.

Last modified: May 1, 2016

© spartancoins.com 2013 - 2018 - All rights reserved.