SPARTANCOINS.COM
The Best Custom Coin Maker?
1-855-477-7826
sales@spartancoins.com
100% Satisfaction Guarantee
Home > Blog > Best Custom Coin Maker
You know the reality of marketing yourself in today's world and on today's internet is that often times you have to say some outlandish things in order to break through all of the noise. In this custom coin industry we have a lot of people saying they are the best. The reality is that in most cases someone declaring themselves the best is just another gimmick to grab your attention.
So here I sit writing this to declare I'm the best. I'm not the best because I can have your custom coin order to you tomorrow, because I cannot. I'm not the best because my site is mobile friendly, even though it is one of the few in this industry that is multiple device friendly. I'm not the best because my site is secured with an SSL certificate or because I provide the best overall customer experience. I am the best because of all these things.
The facts are straight forward. I have no desire to advertise a snappy, attention grabbing order turnaround time which is misleading. I'm going to be honest with you and tell you that your coin order will take time. Quality custom metal products are worth waiting for. I can turn your order around quickly if that's what is necessary but you should also be aware that the special features you add to your custom coin order may require additional production time. The fact is, this website is user friendly on multiple devices including most mobile phones (portrait or landscape view) which you can see here - according to Google search results. My website is secured with an SSL certificate, therefore the information you share with me is going to stay between you and me. Another fact is that I do believe I provide the best overall customer experience in the custom coin industry. Obviously I'm not objective on this one. This is more of an opinion and something I can't possibly substantiate but my customers seem to appreciate their experience.

The bottom line is this; I'm not the best for one or two reasons. I'm the best custom coin maker for all of these reasons; SSL secured mobile friendly website, prompt order turnaround, many years of experience and a large satisfied client base.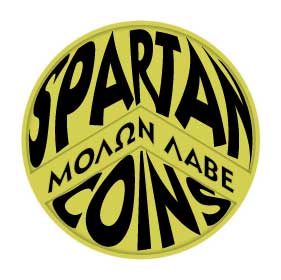 Last modified: March 28, 2016

© spartancoins.com 2013 - 2017 - All rights reserved.