SPARTANCOINS.COM
Custom Coin Cost Savings
Home > Challenge Coins For Less
The facts are, we make and sell quality challenge coins for less than our competition, period! This is where we prove that statement by sharing our unique pricing specials as well as normal every day, industry leading, cost saving opportunities. We did not set out to be known for cheap custom challenge coins, but we agree with the idea that custom coin set up fees should NOT cost an arm and a leg.
Celebrate Black Friday through Cyber Monday
November 13th through November 27th is going to be epic at Spartan Coins. We are offering 25 free coins when you order 125 coins or more on coin sizes measuring up to 2.5 inches. What this means to you in simple terms is - order 125 pieces and receive 150 pieces for the cost of 125 pieces. This offer is valid for coins measuring up to 2.5 inches. You can take advantage of this offer now through November 27, 2017 - only at Spartan Coins! Limit 25 free coins per order! This offer is valid for new orders and re-orders.
Join the Spartan Coins 300 email list!
Save $25!
How About an Industry Leading Special Offer?
At Spartan Coins we believe in walking our own path, which usually leads to you saving money. One thing we do that really sets us apart from our competition is we always offer 50 percent off your die fee when you order 150 coins or more. This offer is available for coins measuring up to 2.25 inches longest dimension, special shapes included. This is just another way we're knocking down the barrier of entry for all those looking to create their own custom coins.
Ready to make your own challenge coins? Contact us today!
Direct email
sales@spartancoins.com
telephone - tap to call
1-855-477-7826
fill out our quote form
get your free price quote!
Price Match Guarantee
We always offer a price match guarantee. We appreciate the unique opportunity to make custom coins and we would love the opportunity to serve you. Provide us with your competing quotes which include all details such as coin thickness and type (die struck brass or die-cast zinc alloy) and we will be happy to beat any competitor's price by at least $50 for coin orders of 100 pieces or more!

If your custom coin vendor has gone out of business then perhaps we can offer you a discounted die fee in exchange for one (physical coin) of the coin you're wanting to duplicate.
In Celebration of Milestone Military Anniversaries!
Spartan Coins is offering industry leading savings, again!
2017 carries with it 2 military milestone anniversaries. The 70th Anniversary of the United States Air Force and 75th Anniversary of the United States Seabees. Spartan Coins is honored to be able to serve our United States military. With this service in mind we are extending a special offer for both of these anniversaries.
Anniversary coins for both of these historic anniversaries will receive free dies when they order 125 coins or more, for coin sizes 2.25 inches or smaller (excluding special shaped coins). This is our way of saying thank you for your service, and our display of appreciation for your rich histories serving the United States of America!
Just to reinforce what you just read I'll say it again, we are offering FREE COIN DIES on these military anniversary coins, sized 2.25 inches in diameter or smaller, on orders of 125 coins or more! Thank you to all our military service personnel for your selfless service!
Every Day Cost Saving Opportunities
The cost savings that we offer each and every month without fail are as follows. Orders of 150 coins up to 299 coins receive 50 percent of their die fee for coin sizes up to 2.25 inches. Shipping is always free for coin sizes measuring 2.5 inches and smaller. Dies are free for orders of 300 coins or more - for coins measuring up to 2.5 inches. Extra thickness for Die-cast zinc alloy coins is always free - so instead of receiving a 3MM thick coin you will receive a 4MM thick coin.
High relief 3D metal costs 70 cents per side, per coin or $1.20 per coin for two sides high relief 3D metal.

Please note, special offers may not be combined and are subject to cancellation without notice.
Savings so good it's like getting FREE coins!



There is NO better time than right now to order custom coins. May you always be blessed with many things to be grateful for.
All the best,
Rob
Visit out Store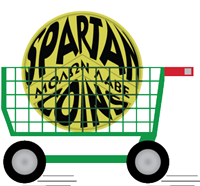 Don't wait, get your project started today by contacting us!
Direct email
sales@spartancoins.com
telephone - tap to call
1-855-477-7826
fill out our quote form
get your free quote!

Last modified: November 15, 2017

© spartancoins.com 2012 - 2017 - All rights reserved.