SPARTANCOINS.COM
Frequently Asked Questions
If you're completely new to creating custom coins I would highly recommend reading this blog post. We go beyond frequently asked questions and touch specifically on certain aspects of coin design, feel and paint color.
Can I create just one coin?
Creating just one coin is not cost effective. While we do everything in our power to make our coins affordable to everyone, we understand there still may be those of you wanting to produce less than 50 coins. We DO NOT accept orders for just one coin but will usually manufacture orders of at least 10 pieces. Like any other offer this low minimum custom coin order offer may be canceled at anytime, without notice.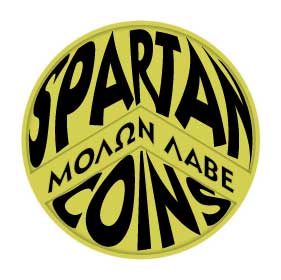 Are painted areas raised?
Painted areas on custom coins are not raised. Painted areas are recessed voids with walls of metal around them to contain and separate paint colors. Pantone paint colors are used to paint solid colors on coins. Gradients or transitions from one color to another cannot be achieved without using photographic printing.
What is 3D metal?
3D metal is represented by layers of detail, much like George Washington's head on a United States quarter.
Can I see what my coin design is going to look like?
Custom coin design or a free artwork proof is part of our service, and you will never be charged for your coin proof artwork. We do our best to accommodate all artwork requests, however if artwork is your highest priority and time is a factor, please submit your order. Orders always take precedent over prospective client artwork. We view an order as a commitment that you will be manufacturing coins with us.
What methods of payment do you accept?
American Express, Visa, Mastercard, Discover, Certified Checks, Money Orders and PayPal are all graciously accepted methods of payment. Contracts and Purchase Orders may also be accepted methods of payment - on a case by case basis * * *.
Payments should be made payable to MSI Investments LLC.
What order types are available to me?
We offer with sample coin and no sample coin orders. With sample coin means you wish to approve a sample coin prior to proceeding into full production. Please note: NO changes to the die may be made without incurring additional die / mould charges. A no sample coin order means you wish to approve artwork and proceed into full coin production.

Where are your coins made?
Our coins are manufactured overseas.
How can I send artwork to you?
You can email your artwork to us at

[email protected]
Make Custom Coins

Last modified: January 13, 2018

© spartancoins.com 2012 - 2018 - All rights reserved.